Huge asteroid to pass (relatively) close by Earth
Updated / Saturday, 14 Sep 2019 11:35
At its largest estimated size, the asteroid would be nearly twice as tall as the Eiffel Tower
A huge asteroid up to five times as tall as Dublin's Spire will pass by Earth tonight, scientists have said.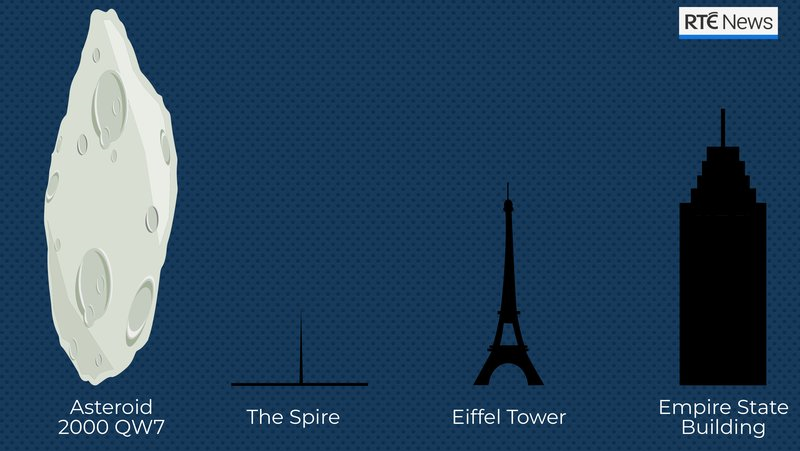 Asteroid 2000 QW7 is between 300 and 600 metres long, according to NASA data, but it poses no danger.
The asteroid dwarfs famous landmarks, such as the 121m Spire, the 324m Eiffel Tower, and the 443m Empire State Building.
It will fly by around five million kilometres from Earth at 23,000/km/h, according to NASA's jet propulsion laboratory.
It is carefully tracked by space experts, and is expected to pass Earth at around 12.54am.
NASA has been aware of the asteroid since the year 2000 and is confident that it is not a threat.
As it continues to orbit the Sun, the asteroid is next expected to pass Earth in October 2038 and the space agency will continue to monitor it to determine whether it may pass closer to us in the future.
Un astéroïde plus gros que l'Empire State Building va passer près de la Terre le 10 août
La Nasa assure toutefois qu'il n'y a rien à craindre et rappelle que des astéroïdes de cette taille passent à quelques millions de kilomètres de notre planète environ une demi-douzaine de fois par an.

Vue d'artiste de l'astéroïde 288P. (RON MILLER / AFP)
franceinfoFrance Télévisions
Mis à jour le 05/08/2019 | 15:55
publié le 05/08/2019 | 15:23
Un de plus. Après l'astéroïde passé très près de la Terre le 15 juillet, c'est cette fois l'astéroïde 2006 QQ23 de 570 mètres de diamètre qui devrait bientôt être de passage près de notre planète, rapporte CNN le 1 août, relayé par BFMTV.
L'objet, "plus grand que l'Empire State building", ne devrait pas causer le moindre dégât. Lindley Johnson et Kelly Fast, du Bureau de coordination de la défense planétaire de la Nasa, estiment qu'il s'agit d'un "astéroïde de taille moyenne" et que celui-ci devrait passer à près de 5 millions de kilomètres de la Terre. C'est "plus ou moins bénin", selon les scientifiques qui assurent qu'il n'y a pas de quoi s'inquiéter.
Des impacts tous les deux ou trois siècles
Les astéroïdes de cette taille passent dans le voisinage de la Terre environ "une demi-douzaine de fois par an", indique Lindley Johnson. Il est rare qu'ils entrent dans l'atmosphère terrestre : cela se produit environ une fois tous les deux ou trois siècles, assure le scientifique.
Asteroids of this size pass the earth about half a dozen times per year, but rarely enter the earth's athmosphere; this would only happen once every two or three centuries.
Kelly Fast a déclaré que l'équipe n'avait encore trouvé aucun astéroïde qui ait une chance significative de toucher la Terre, mais certains d'entre eux pourraient ne pas avoir été détectés par la Nasa. "Ce sont ceux que nous ne connaissons pas qui nous préoccupent", a-t-elle déclaré.
NASA have never found an asteroid of any significance likely of impacting against the earth.